I recently had occasion to refesh my memory about the nitty-gritty of protein synthesis, and how viruses capture the resources of a cell to force it to generate the nasty proteins with which they would like to take over the world. I thought it might be appropriate, as we face the possibility of a major global pandemic, to deliver a blog-lecture on the subject. Use this as a reference when the topic comes up in your office or at your dinner-party—you'll have the benefit of telling the true story instead of the panic-story or the conspiracy-story.
[Plugs in laptop, gets Powerpoint up, shows first slide]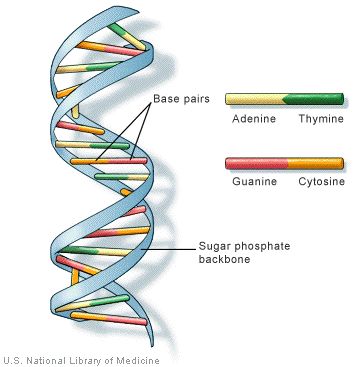 I'll start with DNA, the familiar double-helix nucleic acid. Each of the two complementary strands is made of linked molecules called nucleotides. There are only four to choose from: Cytosine, Guanine, Adenine and Thymine (C,G,A,T) Wherever a C appears in one DNA strand, there must be a G in the complementary strand, and vice versa. Wherever an A appears in one DNA strand, there must be a T in the complementary strand, and vice versa. So a section of DNA, unwound, is schematically like this:
T A C T T G G A C A C A T G C G A A G C T T
| | | | | | | | | | | | | | | | | | | | | |
A T G A A C C T G T G T A C G C T T C G A A
The bonds indicated by vertical lines are not strong, so the helix can and does unwind into two separate strands. One of two things can then happen: either each strand can pick up the nucleotides it needs to make it double-stranded again, in which case it has replicated, OR a slightly different nucleic acid strand may be created using a gene from within single-strand DNA as a template.
This is
messenger RNA
, written
mRNA
, and it's not quite exactly like a single strand of DNA. Where DNA uses thymine, RNA uses uracil, so a strand of mRNA derived from the upper strand shown above would be like this:
A U G A A C C U G U G U A C G C U U C G A A
The job of the mRNA strand is to find a cellular structure called a ribosome, which is capable of translating the string of nucleotides into a string of amino acids, which then fold up to become a protein.
mRNA feeds through the ribosome three letters at a time, each set of three (called a codon) representing one of the 20 possible amino acids according to the genetic code so brilliantly worked out by George Gamow, Francis Crick, Sydney Brenner and others.
The leftmost triplet in the string I'm using, AUG, is an almost-invariable START signal, and the amino acid it normally codes for is ignored. Thereafter, this particular string would decode as follows:
A U G | A A C | C U G | U G U | A C G |C U U
START Asn Leu Cys Thr Leu ....etc...
Here's the entire code, in chart form:
Notice that, just as AUG means START, there are three codons meaning STOP: UAA, UAG, and UGA.
The amino acids are brought to the ribosome packaged with a short RNA strand called Transfer RNA (tRNA), The tRNA molecule presents a triplet of nucleotides to the ribosome for matching to the mRNA strand at its current position. For example, the amino acid Leucine is coded CUG in the above example, in the mRNA sequence. So the tRNA wrapped around Leucine needs to show GAC as a match. This is called an anti-codon.
How viruses exploit this machinery
Most viruses consist of an RNA strand from a few thousand to a few million nucleotides, coding for between 2 and 2500 proteins. The RNA is wrapped in a protein envelope called a capsid. The virus gains entry into a cell by attaching spikes called peplomers to receptors on the cell membrane. It's unlikely that the receptors are there simply to make life easy for a virus—more likely the receptors have a more benign function that viruses have learned to exploit.
Once inside the cell, the viral RNA has a few distinct strategies for replicating and being expressed (decoded). I'm going to write about three of these.
Retroviruses

use an enzyme called reverse transcriptase to turn themselves into double-stranded DNA, which then inserts itself into the host genome at a random site. The normal machinery of the cell takes over the task of replicating and expressing the viral sequence along with the rest of the genome.
Examples of retroviruses: HIV, HTLV (Human T-lymphotropic virus)
One technique for gene therapy is to use a disabled retrovirus as a carrier to insert a good copy of a gene into the genome of a patient in whom that gene is missing or incompetent. In principle, a wide range of genetic disease, including some cancers, might be eliminated by this means. However, clinical progress has been slow and some accidents have happened.
Positive-sense single-stranded RNA viruses
are the most common form, and include the following list of threats to human health:
Coronavirus
Hepatitis-C
West Nile
Dengue
SARS and MERS
Common cold
The descriptor "positive-sense" means that the viral RNA mimics normal mRNA perfectly, with all codons reading correctly including the start and stop sequences AUG and UAG. A coronavirus is about 30,000 nucleotides long in total. So the (+)ssRNA goes straight to a ribosome and says "translate me." The ribosome obediently churns out proteinnote 1, and one of the first proteins produced is an enzyme that assists in replication of the viral RNA itself.
To make things even worse,
(+)ssRNA keeps the ribosomes so busy that normal protein synthesis is inhibited.
Negative-sense single-stranded RNA viruses

are the same but written backwards. Before they can be expressed, they first have to be converted to positive-sense by RNA polymerase. These viruses are in general much more complex than the (+)ssRNA type, and generate capsid-enveloped copies of themselves that then extrude from the cell and go off to do further damage to other cells.
Notable examples of (-)ssRNA viruses are:
Ebola
Marburg
Measles
Mumps
Rabies
Lassa
Hepatitis-D
Influenza
How do viruses learn these tricks?
Of course, viruses could not possibly have evolved as external to cells—"knowledge" of how protein synthesis works would be essential for a virus to develop a way of exploiting it.
In my opinion, viruses must have originally evolved within cells and later been ejected, or the co-evolving cells died off leaving the viruses as evil survivors. If that's correct, (-)ssRNA would be the original form and the other types evolved later from that form. There's even a theory that viruses evolved as the first living forms, and more complex entities followed along.
Extraterrestrial life?
Knowledge of these detailed living processes makes me a skeptic when it comes to the question of life elsewhere in the universe. As we learn more about how common planetary systems are, people say "with all those trillions of possible sites where life could have evolved, it's ridiculous to think that planet Earth is the one and only place it actually happened."
I say no, it's not ridiculous at all. The intricacy of the processes I have described in this blog-lecture is such that, to me, it could only happen once in this particular way. If there is a form of extraterrestrial life somewhere, it would have to have its own rules and its own chemistry. I doubt if we'd even recognize it as life if we had a sample of it.
Could some of these viruses be artificial?
In other words, the question is "could some laboratory have created and released coronaviruses as a biological weapon, or a deliberate population-reduction strategy?"
I don't know. I doubt it. Ken Cuccinelli, acting deputy secretary of the Department of Homeland Security, recently said this:
"I will say the reading that I have done of medical professionals suggest that the structure of the virus seems unlikely to have been man-made because if it was made to be a threat, you would expect to see certain characteristics that aren't present."
I have no idea what he meant by "certain characteristics."
This analysis might be helpful.
=====================/ \====================
[1] The ribosome delivers all the protein encoded by the viral RNA connected up in one long chain. A biochemical called a
protease
chops that chain up into functioning protein packages. One strategy that has already had some success against the HIV virus is to find a way of attacking viral protease, disabling it and thus thwarting the virus's life cycle. Anti-viral drugs that perform this trick are called
Protease inhibitors,
and an inhibitor effective against coronavirus is a subject of intensive research.