He was just joking, of course—giving a facetious answer to George Noory's question "Why are you so interested in the Moon?" on Coast to Coast AM, 19th August. But many of the things he had to say during that two-hour interview made me think "lunatic" was close to the truth.
Morningstar was expounding a theme that there's some kind of "new honesty" in NASA now that Jim Bridenstine is Adminstrator (since April 2018). He said that, in NASA's image library, old fuzzy images are gradually being replaced by higher resolution versions, which to my knowledge is totally untrue. He didn't give any specific examples, but he did OOOH and AAAH a lot over this image, which he says he found in a Polish astronomy magazine in 2018.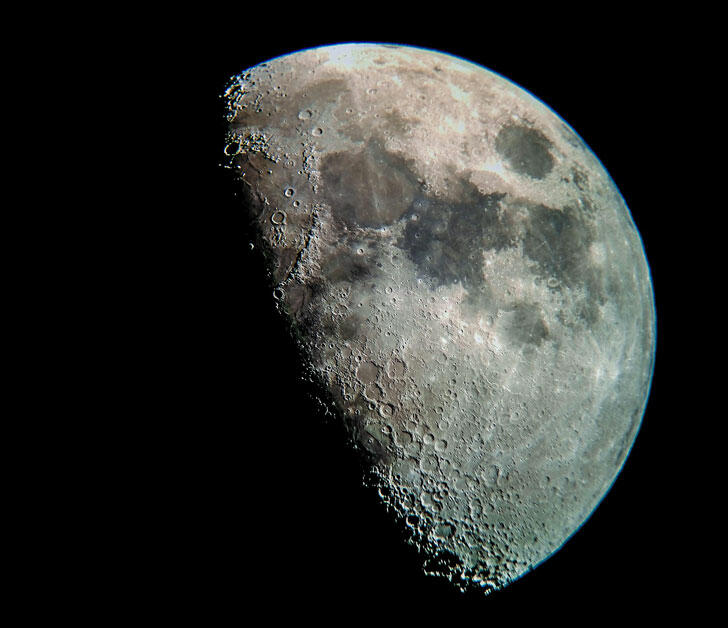 Morningstar enthused over the gorgeous color, which he said the "old, dishonest NASA" would never have allowed to be seen. In answer to Noory's question "Why would they suppress color on the Moon?" he replied "If people could see how beautiful the Moon really is, they'd all want to go there." Well, y'know, since there's no possible way the general public can get to the Moon anyway, where's the harm in that? Besides, now that the cat's out of the bag, so to speak, why aren't people clamoring for transport to the Moon?
Later in the show he returned to this topic, saying that he's being asked why we don't see these colors during full Moon at night. In a spectacular display of his misunderstanding of optics, he said that it's the same reason the sky is blue in daytime. The atmosphere filters out all but blue light. We are left to wonder whether Mr. Morningstar, the "specialist in photo interpretation," has ever looked at Mars in the night sky.
By the way, anyone can make a full Moon digital photo as gloriously colorful as they like.
Here's an article showing how
. The result is no more real than Mike Bara's
pathetic attempt to convince us
that increasing color saturation of an image is "just like turning up the volume on a radio."
Turtle rock
Morningstar repeated a claim he first made in October 2016, that "My friend Ed Mitchell" photograhed a UFO while on the Moon. He means this photo of turtle rock, AS14-68-9472:
Morningstar said the UFO has "a geometric pattern." Oh yeah? If you're having a hard time even seeing a UFO, let alone a geometric pattern, look in the sky just above the second fiducial from left. There's a small piece of scanner lint. Ed stepped a little to his right and shot the next frame, AS14-68-9473:
Bye-bye Mr. UFO.
There was plenty more lunacy in the show, but I think that's enough to make the point.