This is a laugh. The UFO Congress, promoting its 2019 meet-up, has tacked a VERY STRONG disclaimer onto its
page about Ken Johnston
. Having referred to him as "Dr. Johnston" in the blurb, the following has now been added:
NOTE: Ken Johnston is not a doctor and does not have an accredited Ph.D.
In four paragraphs, the text explains that Johnston was deceptive in claiming the Ph.D. in the first place, stating that his doctorate was conferred by the Reformed Baptist Seminary. In fact it was "The Reform Baptists Theological Seminary," one of several diploma mills run by tax-protester William Conklin. In other words, a worthless piece of paper.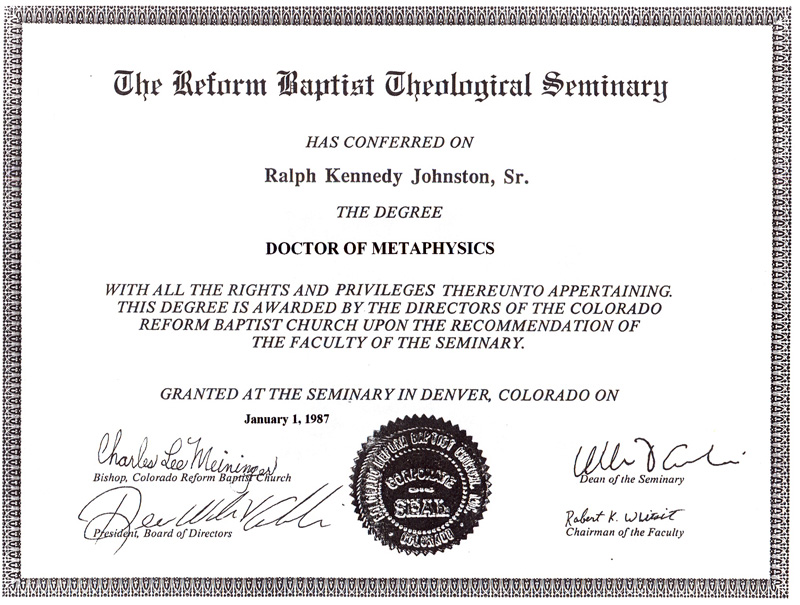 Resolution
I also take issue with one other factoid in the blurb. It describes Johnston's Apollo photo collection as "...of a higher resolution than what is found on-line." It's a tricky point because they are attempting to compare the resolution of a 10x8 photoprint with that of a digital image, but consider these points:
Point 1
. The online NASA Apollo image library generally offers its products in two different resolutions—low and high. Take a look at a typical listing,
Magazine C from Apollo 17
. The hi-res images, suffixed HR, are jpgs of at least 500kb, on up to 1600kb. They are typically 2400 pixels square and the numerical resolution in metres per pixel depends, of course, on how far away the subject is. But this resolution is more than adequate for inspecting the surface, and far more convenient than peering at a photoprint through a loupe.
Point 2
. Any serious researcher for whom that resolution is inadequate can, by paying a modest fee, order up extremely hi-res digital images in .tiff format that are scanned direct from the camera negatives. This is what I did
when investigating Hoagland's "Data's Head" claim
, and I received a version of AS17-137-21000 that was 46.1 MB, 5190 x 6175 px.
Point 3
. The first exposure of Ken's photo collection occurred in early 1995, when he showed a selection to Hoagland after a lecture in Seattle. That means that these prints had been in Johnston's ring binders for at least 20 years and, even in glassine envelopes, some fading and discoloration would be inevitable (
More on that here
).
Point 4
. Hoagland has always claimed that Johnston's print-set shows things that NASA's equivalents do not. But the fact is, he's not actually comparing a print to a digital image—he's comparing
his own scan of a print
to NASA's scan. Hoagland's scanner glass is quite clearly contaminated.
Part of Hoagland's scan of AS10-32-4820
Bottom line, I do not think the claim made for this collection is sustainable.
Thanks to James Oberg for monitoring this