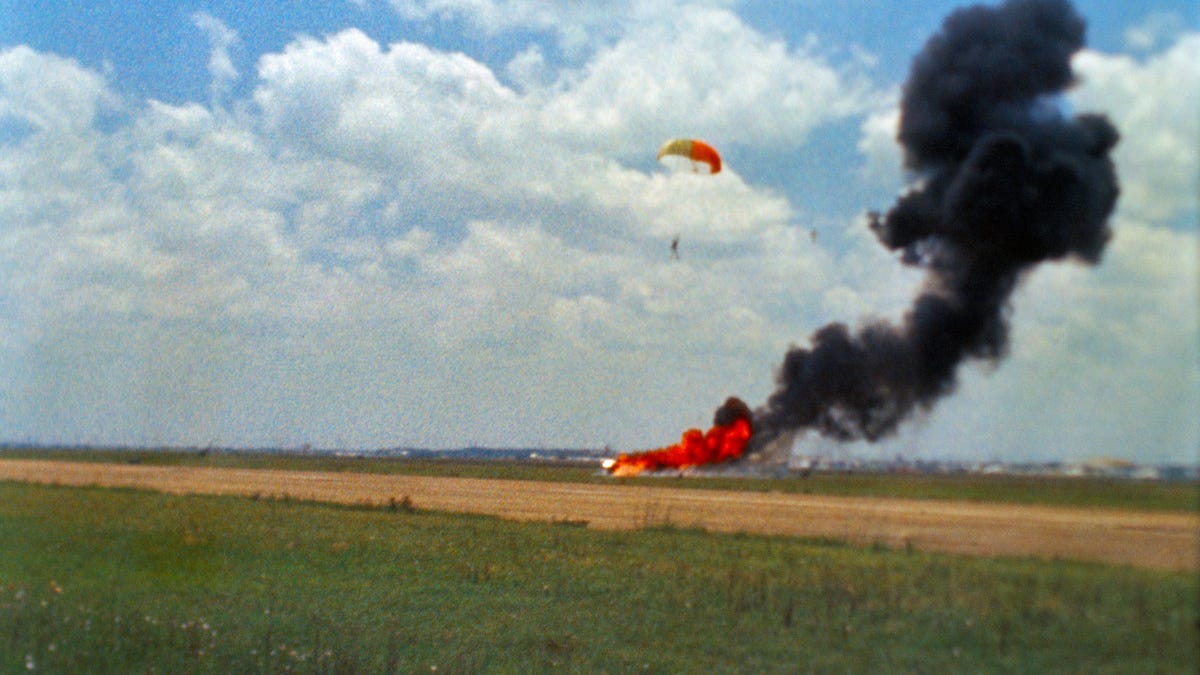 Ask anyone what the acronym LLTV means, and they'll either say "Whaaaaaa??" or refer to this epic crash on 6th May 1968, when Neil Armstrong used the ejection seat from ~200ft to escape his
Lunar Landing Training Vehicle
which was out of fuel tank helium pressure and out of control in high winds at Ellington AFB.
Sticklers for accuracy will quickly note that this was not actually a LLTV, but its forerunner the LLRV (
Lunar Landing Research Vehicle
)—Armstrong's was the last of the LLRV flights. Three LLTVs were built by Bell Aerosystems, the helicopter people. Only one survives (and is on display at Armstrong Flight Research Center adjacent to Edwards AFB) because Armstrong's was not the only crash. The chief test pilot Joe Algranti ejected from LLTV#1 in January 1968, and Stuart Present likewise survived the prang of LLTV#3 in January 1971.
The training program sounds like a failure, when narrated like that emphasizing the prangs. But in fact, it was considered a resounding success at the time. Not only Armstrong but all the other Apollo commanders completed several very successful training flights in the bedstead. It was a requirement. Armstrong later said his practice flights in the LLTVs gave him the confidence to override the automatic flight control system and control Eagle manually during the epic Apollo 11 descent to the Sea of Tranquility.
Apollo 12 CDR Pete Conrad hovering the LLTV
Mike Bara, the world-renowned jet aircraft designer and mendacious self-promoter, clearly does not understand the LLTV program and what it achieved. Last night's episode of Truth Behind the Lunar Landing (Science Channel) focussed on that one spectacular crash by Armstrong, and Mike Bara commented "I call bullshit on the lunar landing based on the fact that Armstrong could not control the training aircraft."
Not only is that portrayal of the program a complete travesty and Bara's statement untrue, but,
just as in Episode 1 of this show
, Bara is only pretending to be a disbeliever. In
the second part of his essay Who Mourns for Apollo?
, co-written with Richard Hoagland and Steve Troy in 2004, he devotes three paragraphs to explaining the sophisticated inertial control system that made soft landing of the LM possible. Bara can never resist the opportunity to insult somebody, and in this case he calls conspiracy theorist Ralph René "a complete idiot" for questioning the stability of the LM in lunar gravity.
Fans of this show should be aware that Bara is here functioning as a mere actor rather than any kind of expert (and astronaut Leland Melvin is, at times, so obviously delivering a memorized script that it's a joke).
source:
Dryden Flight Research Center fact sheet