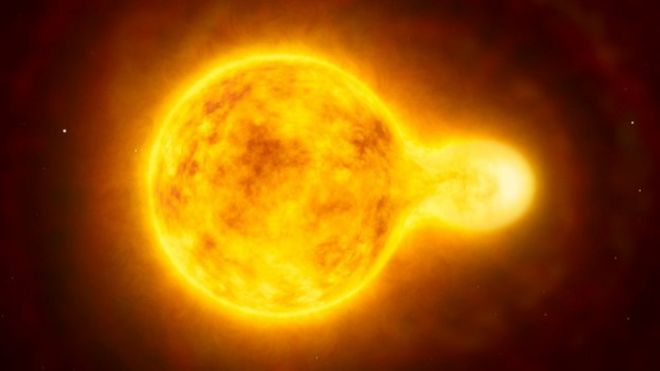 Mike Bara, the world-renowned designer of jet aircraft and seducer of strippers, posted this picture today with the comment "Another confirmation of the solar fission theory discussed in my book
The Choice
."
It's a pretty picture but it has nothing whatsoever to do with solar fission. Mike Bara is so utterly ignorant of things solar and planetary that we've come to expect from him nothing much better than "It looks like, therefore it is."
Solar fission is Tom Van Flandern's theory that the solar system was not born from the gradual contraction of an accretion disc, as the accepted theory teaches. Rather, the Sun formed first and then flung planets off in pairs by a process similar to good old centrifugal force. Van Flandern's diagrams do look a bit like the above picture, if you ignore the obvious fact that the smaller object is not one of a pair. Mike Bara wouldn't give a thought to a detail like that any more than he did two years ago when
he cited the observation of a single exoplanet
, GJ504b, as support for Van Flandern. As a theory, solar fission always had its problems and went into the recycle bin when planetary accretion was actually
observed in progress, at HL Tauri
.
What we really see here is a "contact binary" -- a pair of stars that are so close that their exo-atmospheres are partly shared. It's part of a five-star system that is made of the contact binary, a detached binary, and one single star. It's called in Ursa Major. The complete announcement
is here
. By the way, as Chris rightly notes in comments here, this isn't really a picture of
HR 5171
. "Confirmation of the solar fission theory"? No, Mike, No. Just NO.
It's one thing for Bara to peddle his virulent climate change denial — at least there still is some real controversy there (although precious little, at this point). But when he tries to promote a long-dead theory with an irrelevant image, we can only laugh and go about our business.