Richard Hoagland has been in private mourning ever since his companion's death from cancer on 3rd March, and nobody could possibly fault him for that. As a 74-year-old, he surely must have expected Robin Falkov to outlive him. Sad.
Well, he obviously thinks it's now time to emerge from his grief, because he appeared as a guest on
his own blogtalk show
last Saturday night. Hosting was the ineffably glam Laura London. Laura talked too much but at least they didn't interrupt each other, which was a blessing.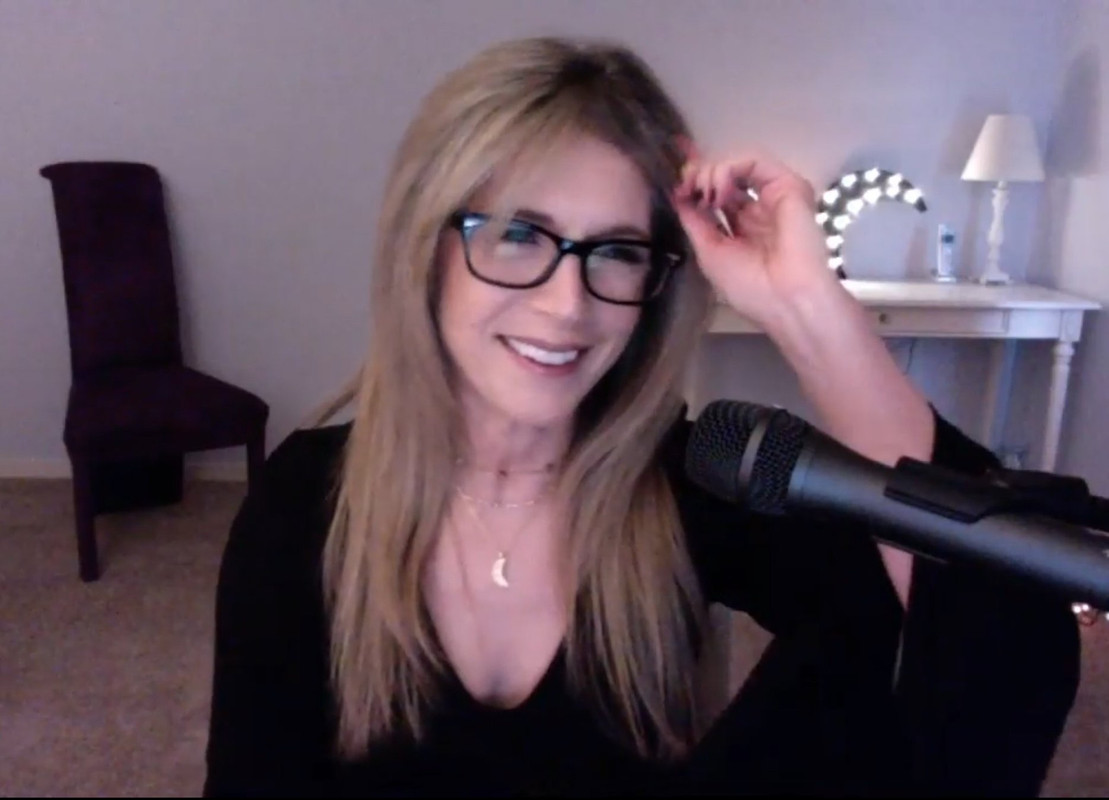 Laura London, from Facebook
There was much chat about the commercialization of space, and the prospects for
Jeff Bezos' Blue Origin
enterprise, that may be Moon-bound before you know it. Hoagland opined that Blue Origin must have been forced to sign an agreement to censor any close-up photos of the Moon, as NASA has always done, so as not to "give the game away" about the... you know, the alien ruins. He forgets that the thousands of excellent images at a resolution of half a metre per pixel from Lunar Reconnaissance Orbiter have already blown it. The "game" is that there is no game.
19.5
The only notable thing about the number 19.5 (19.47277 if you want to be picky) is that it's the angle whose sine is 1/3, or 0.3333333 etc. It is not some mystical, transcendental property of the Universe, as 3.141596 and 2.7182818 are. It was mere human beings who decided to divide a circle into 360 things called degrees, after all. A corollary of that trigonometric fact is that if a tetrahedron is inscribed in a sphere with one vertex at the north pole, the other three vertices will be at latitude 19.5°S (I proved this
geometrically back in 2015
, doing Hoagland's math for him since he has no talent for it.)
So, let's be clear. There is no justification whatsoever for attaching significance to this number when it's a longitude, the rotation period of an asteroid, the magnitude of a comet, or the time (either 19h50 or 19h30) of some event. Hoagland has made all those associations in the past, and even once famously drew attention to the fact that shirts at Old Navy were on sale for $19.50.
On the show last Saturday night, he excelled himself in irrational flim-flam, discussing "disclosure."
50:35 RCH "Let me tell you something else that I think is interesting [for] symbolic pathways ... This is 2019, right?"
LL: "Mmm-hmmm"
RCH "OK. So... 2019... If you ...If you multiply 19.5 by two you get 39, right? So... so the July month of this year ... actually it's June ...er, is the...is the half-way point in 2019. Scrambled all together, June is the beginning, in this model, of more and more and more overt disclosure."
I had to run that three times before I even got a feel for what he was trying to allege. Here's what I think. First of all, forget the 19.5 x 2 = 39. That was just random neurons firing in Hoagland's tiny brain. Now, he's saying that since June is half-way through the year, we're now at the year 2019-and-a-half. Then just discard the 2000 and call that insanity a "model."
Phew... If there's one thing more invalid than numerology, it's
botched
numerology.
Brookings, again
Another perennial source of error in Hoaglandia is that damned
Brookings report
. Hoagland insists that the report pretty much required NASA to keep quiet if it ever found solid evidence of extraterrestrial intelligence. On saturday night he was even wronger than that.
52:42 RCH "If you read Brookings, there are sections particularly in the footnotes, where it is specifically recommended to Congress that the people were not ready. [...] This is how they could be made ready. So in 1959, this document [...] they basically laid out a prescription for how to get people ready. And they recommended in this footnote, which again you can read on the Enterprise Mission website, a series of things that had to be done. Production of radio, television, commercials, movies, all acculturating people to accept the idea that we are not alone. And then you have, if you look at mainstream pop culture, you've got Startrek, you've got The Outer Limits, you've got Twilight Zone, you've got Star Wars, you've got an infinite number of movies now, Marvel Comics Universe. People are so ready."
It's true that he's put up pictures of selected pages from the report on Enterprise Mission—
check 'em out
. But you aren't going to find what he says you are. The footnotes from pp.225-6 make no mention of mass media. I can do better than that, too.
Here's a searchable pdf of the entire thing
. The footnotes occupy pp.218-227. Within those pages the occurrences of the strings "movies" and "television" are both ZERO. There is ONE occurrence of "radio"—in the expression "National Radio Astronomy Observatory" (p.225). Hoagland was in fantasy-land.
Well, there are two little gems from hour 1. I hope to get back to this tomorrow, with clips from hour 2.