Richard Hoagland the pseudo-scientist devoted much of the first hour of his marathon radio appearance with Art bell to this image, taken on the Moon in 1967 by the unmanned lander Surveyor 6.
image credit: NASA (scanner contamination by RC Hoagland)
He announced that the glow in the lunar sky was clear evidence of a glass dome, and the linearity was further evidence that it was artificial. He talked about a "stairway."
I wrote pointing out that the original orientation of the image was thus: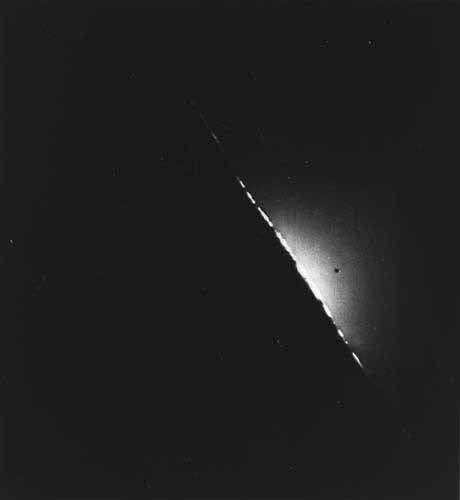 The linearity is parallel to the original vertical. The image was produced by vertical scan of a vidicon and transmitted at low bandwidth. It stands to reason that we are seeing scan lines.
Hoagland wrote back:
"
Then I guess these guys presengted[sic] it "wrong" too .... :)" And he provided a link to a paper in J. Aerospace Engg. by Colwell et al. He means Fig. 1, showing the lunar horizon horizontal, but also clearly showing parts of the original margins.
The truly hilarious part is that he evidently didn't notice the caption -- the highlighted sentence in particular.
Was it too childish of me

to write back that he was pwned, adding "ALL YOUR GLASS DOME ARE BELONG TO US"?